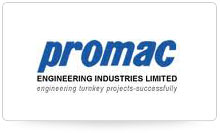 Promac Engineering Industries Limited located in Bangalore, South India, was established in the early seventies, for the manufacture of Bulk Material Handling Systems. Promac has since diversfied into the manufacture of Turnkey projects like Rotary Kiln and Vertical Shaft Kiln Cement Plant, High Pressure Sinter Plants, Mineral Beneficiation Plants, Bulk Material Handling Systems, Agricultural Waste Treatment Plants Compost, Iron & Steel Plants and other custom built equipment and projects for the Heavy Engineering and Process Industries.
Candidates for the above post shall have 20-25 years of experience & exposure to construction work management in Thermal Power projects.
Candidate having served at least for 5 years in senior position in any power project and experience with overseas project is desirable.
Shall be ready to work with overseas projects.

Qualification - B.E. ( Civil Engineering).

Required Skill Set -
Should be well versed with Computer applications/usage.
Contact Company:

Promac Engineering

Email Address:

hrd@promacindia.com , personnel@promacindia.com