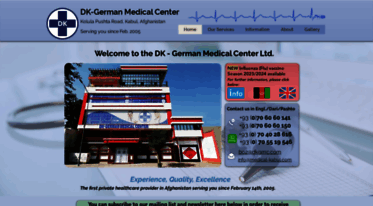 It was established in order to provide high quality of medical care and diagnostics on February 14th, 2005 and has been operating continuously since. Despite the emergence of a vast number of other private healthcare providers in Kabul and the provinces, it remains the reference standard for private medical diagnostics and medical care in Afghanistan. we employ German and European physicians and dentists and have visiting European physicians throughout the year. We perform all of our work in accordance to German and international quality standards using only Germanmade medical devices, equipment, diagnostic reagents and pharmaceuticals. About 70% our clients are afghan nationals (visiting us from all provinces of Afghanistan), about 30% are international clients mainly from embassies, organisations and institutions and companies.

Role : Junior/Assistant Accountant
Location : Kabul Afghanistan
Compensation and Benefits : 700 USD including free accommodation (A Large Common Team kitchen is also provided in the premises as an Option for Meals )
plus visa sponsorship ( only Passport scanned copy required for VISA Processing ) plus 3 weeks annual paid vacation to INDIA.

Requirements: -

Bachelors degree in commerce.
- accounting software, hands on knowledge of Tally ERP 9 & Quick Books.
- good English language skills
- very good analytical skills.
inventory management
- precision.
- ability to work independently.
- superb typing skills.
- knowledge of Windows XP, Windows 7.
- knowledge of common everyday applications (Office, browsers...).
- familiarity with printing and scanning equipment.
- strong interest in furthering own technological horizon.

Explicit duties: -

supervision of the Back Office team.
- cash handling for invoice payments by corporate clients.
- supervision of B2B relations as handled by Back Office staff.
- supervision of B2B communications, especially written.
- supervision of corporate invoice generation.
- petty cash handling.
- maintenance of hardcopy records.
- payroll generation.
- handling of accounting and inventory records.

Implicit duties:
- monthly balance generation
- annual balance generation for purposes of income tax
- other duties as identified by Management in function of the evolution of the position.
3+ years experience

Rajeev Modi
rajeev@strivex.com