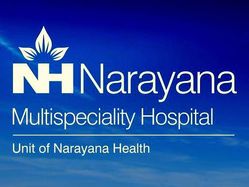 Narayana Health is India's leading healthcare provider with a network of 24 hospitals, 7 heart centers and 19 primary care facilities. NH has presence across 19 locations in India, and a hospital overseas at Cayman Islands, USA.
Our first facility was established in Bengaluru in 2000, and since then we have grown to become India's second largest healthcare operator with over 5,900 operational beds and a capacity to reach over 7,100 beds across locations. The NH group caters to over 2.6 million patients every year and provides advanced level of care in over 30 specialties. The NH group has more than 14,000 employees and associates including over 3,000 doctors across its healthcare facilities.
The group has 3 hospitals with international accreditation from Joint Commission International (JCI) and 14 hospitals with domestic accreditation from National Accreditation Board for Hospitals and Healthcare Providers (NABH). Narayana Health has won 30+ awards and accolades from reputed institutions since 2010
Position: Neuro OT Nurse
Ensure preoperative checks are made on accepting the patient into the OT and prior to the administration of any anesthetics or surgical procedure along with the anaesthetist.

Ensure proper monitoring of patients and taking prompt action in case of any emergency as per advice from the consultant/surgeon.

Ensure that surgical policies and procedures are adhered to in relation to operations and correct procedures are followed in the checking of swabs, instruments, needles etc.

Ensure that correct aseptic techniques are used.
Administer medicines in accordance with guidelines, Policies and Procedures.

Collect samples for investigation as required and monitoring blood glucose values with the use of glucometer.

Administer drugs- oral, sublingual, intravenous, intra dermal, subcutaneous and intramuscular.

Perform nursing activities related to the transfer of the patient from OT to other inpatient areas.

Recording & reporting patient condition as & when required
2+ years experience
Recruiter Name:

Ramamoorthy Veluchamy

Email Address:

ramamoorthy.veluchamy@narayanahealth.org