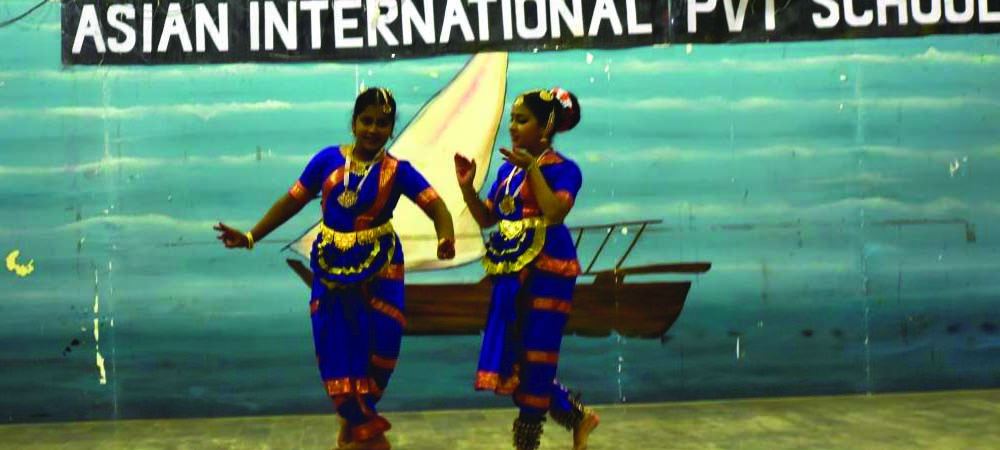 Asian International Private School comes with a history of over 30 years. AIS started its orientation in the year 1987 in Gayathi, Western region of Abu Dhabi with the aim of providing educational services to different nationalities, later shifted to new premises in Madinat Zayed. The School is affiliated to the Central Board of Secondary Education, Delhi and recognized by the Ministry Of Education, UAE that serves approximately 800 students from the area. Since its inception in 1987, the school has been the leading educational institution in the Gulf Region.
The prevalent policies and ideas were updated with international best practices and dynamic concepts of education within affordable fees; The School follows the syllabus outlined by the CBSE and prepares students for All India Senior Secondary School Examinations. We are pleased to cater to the learning needs of our 20 different nationalities students. It clearly indicates the School's esteem amongst the Madinat Zayed and Ruwais community. 21st learning skills, Safe and Secure environment Pastoral care, Technology integrated with the Curriculum, Smart interactive Classes are some of the recent evident achievements in itself.
The School employed well qualified, trained and experienced teaching faculties. "GREAT TEACHERS HELP CREATE GREAT STUDENTS". So, as pioneers in education AIS connects and advances professional faculties from diverse backgrounds to update themselves to implement innovative Teaching Methodology in classrooms to meet Government's vision in the Education Sector ensuring all round development among students. We prioritized Professional Development Training and other workshops from resource person to our team .AIS believes that a unique team with exceptional performance associated with exchange of ideas and ways of applying things differently and embedded talent which formulates outstanding results .We can affirm that our Students acquire Best Education in CBSE and MOE context, grow up with our Core Values rooted in them and leave the School to step into the new challenges with confidence.
Asian International School continued its journey successfully and opened its branch on 19th September, 1989 in Ruwais.
The School is affiliated to CBSE, Delhi and recognized by MOE, UAE that catered the educational requirements of Students of different nationalities. Majority of the Parent Community includes oil refinery employees. The enrollment of the School for the Current Session is approximately 1350 in number.
In Kindergarten, Students explore themselves in a prepared learning environment enhances learning an enjoyable experience. Primary Curriculum is designed to meet individual learning needs. School is providing all round education and Students were given opportunities to participate various activities throughout the year. Results of the Board Examinations both in AISSE and AISSCE show excellence year after year for the past decade. Our Students are encouraged to participate in International Bench Marking Tests. Students are trained for ASL, PSA and regular CBSE Syllabus.
Our Students can opt for two streams - Science/Commerce with variety of optional subjects. Students are encouraged to participate various tournaments. Competitions and cultural activities nationally and internationally.
Both the Schools are licensed from the Health Authority. Sports, Library facilities are provided to the Students. Opportunities are provided to unfold Critical Thinking and Creativity amongst our Students.
We make sincere efforts to uphold and reflect UAE culture and Identity.
Developments are focused in every area in our both Schools at a time. Professional Development and other enrichment programs are on par for both the Schools.
AIS count as the blessings from almighty and take it as a honour that by targeting the learners who has been entrusted to our care in our educational institutions are not only limited to the separate island of excellence in education but also the journey which continues to the accomplishment of proficiency in every area linked to a learner and by creating an outstanding learning community who benefits to the society is viewed as a bliss.
This reputed institution incorporates reform and progress in keeping with the size and evaluation. Recognition and demand from the diverse communities has added strength to our expansion and rise of
KING AND QUEEN NURSERY.
It is AIS's humble endeavor to give back to the community and UAE at large where we continued spending major span of time, by propelling our students to reach to unprecedented levels of success
Urgently Wanted - Senior Secondary Teacher(s)/ High School Teacher(s) Asian International Private School LLC
1) Establish and enforce rules for behavior and procedures for maintaining order among the students for whom they are responsible.
2) Instruct through lectures, discussions, and demonstrations in one or more subjects such as English, mathematics, or social studies.
3) Establish clear objectives for all lessons, units, and projects, and communicate those objectives to students.
4) Prepare, administer, and grade tests and assignments to evaluate students' progress.
5) Prepare materials and classrooms for class activities.
6) Adapt teaching methods and instructional materials to meet students' varying needs and interests.
7) Maintain accurate and complete student records as required by laws, district policies, and administrative regulations.
8) Assign and grade class work and homework.
9) Observe and evaluate students' performance, behavior, social development, and physical health.
10) Enforce all administration policies and rules governing students.
11) Plan and conduct activities for a balanced program of instruction, demonstration, and work time that provides students with opportunities to observe, question, and investigate.
12) Prepare students for later grades by encouraging them to explore learning opportunities and to persevere with challenging tasks.
13) Guide and counsel students with adjustment and/or academic problems, or special academic interests.
14) Instruct and monitor students in the use and care of equipment and materials, in order to prevent injuries and damage.
15) Prepare for assigned classes, and show written evidence of preparation upon request of immediate supervisors.
16) Use computers, audiovisual aids, and other equipment and materials to supplement presentations.
17) Meet with parents and guardians to discuss their children's progress, and to determine their priorities for their children and their resource needs.
18) Confer with parents or guardians, other teachers, counselors, and administrators in order to resolve students' behavioral and academic problems.
19) Prepare objectives and outlines for courses of study, following curriculum guidelines or requirements of states and schools.
20) Meet with other professionals to discuss individual students' needs and progress.
21) Prepare and implement remedial programs for students requiring extra help.
22) Attend professional meetings, educational conferences, and teacher training workshops in order to maintain and improve professional competence.
23) Confer with other staff members to plan and schedule lessons promoting learning, following approved curricula.
24) Collaborate with other teachers and administrators in the development, evaluation, and revision of secondary school programs.
25) Prepare reports on students and activities as required by the administration.
26) Select, store, order, issue, and inventory classroom equipment, materials, and supplies.
27) Plan and supervise class projects, field trips, visits by guest speakers, or other experiential activities, and guide students in learning from those activities.
28) Administer standardized ability and achievement tests, and interpret results to determine students' strengths and areas of need.
29) Sponsor extracurricular activities such as clubs, student organizations, and academic contests.
30) Attend staff meetings, and serve on committees as required.
31) Perform administrative duties such as assisting in school libraries, hall and cafeteria monitoring, and bus loading and unloading.
32) Provide disabled students with assistive devices, supportive technology, and assistance accessing facilities such as restrooms.
Required Candidate profile
The desired candidate should hold the following
Graduate and Post Graduate in the same discipline with Bachelor in Education ( Mandatory)

Willingness to travel abroad alone

Notice period immediate to 15 days

Experience of Minimum 2 and above for the Grades applied to

Preference : Candidates on Visit Visa / from home country
admin.hr@asianintlschool.com